Cotton Club Museum and Cultural Center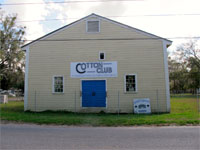 Institution Name:  Cotton Club Museum and Cultural Center
Address:  530 West University Avenue – Gainesville, Florida  32601
Phone Number(s):  (352) 376-9956
E-mail:  vivianfiler@att.net
Contact Person(s):  Vivian Filer
Hours of Operation:  TBA – building currently being restored

About:  The building known as the Cotton Club Museum and Cultural Center in Gainesville, Fl was built by World War II soldiers at Camp Blanding in Starke, Florida. When the war ended those buildings were sold to individuals. This building was brought to Gainesville and opened as a theater for African-Americans in the mid 40s.
After its life as a theater it was purchased by an individual who opened it as a big bands club and named it after the famous night club in Harlem, New York. Bands and singers who later on became famous, such as James Brown, BB King, Bo Diddley, and Ray Charles performed here during the era of the Chit'lin Circuit.
The building when complete will serve as a museum and cultural center housing African American history and culture.